Three key insights from the coast path
In the 5 weeks since I finished running the South West Coast Path, people have asked two questions: first, how do you feel; and second, what are your key reflections?
Before I dive into those questions, I wanted to announce that we are running a Modern Maverick retreat at the beautiful and inspiring St Giles House in Dorset (below). The dates are Wednesday 11th to Friday 13th October. The group is limited to 8 and there are some places still available.
Three of us from Haddon Coaching will be leading the 3 days - we will use a mix of group time and one-to-one time to help you really create a vision and a plan for your best life. We have selected the most effective tools from the book and will be exploring your definition of success, your values, what purpose and meaning looks like for you, how to build your perfect week and create good habits, and finally helping you to put in place a plan to make the changes you want to. There will also be plenty of space and time for silence. You can find out more here or drop me an email to ed@edhaddon.com.
We would love to work with you there.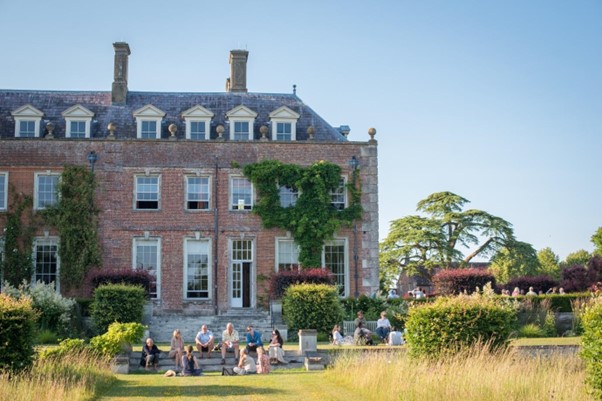 Let me address the key reflections question first and come back to how I felt after finishing. Three themes have solidified in my head around making things easier for yourself, staying in the present and finding help.
1) If you are going to do something difficult, then make it as easy as possible
Setting a challenge is daunting, completing a challenge is deeply satisfying and steadying. When you choose to really stretch yourself in any area of your life, there is no need to double down on that stretch. What can you do to make things easier? For the run this was all down to preparation. My training was going nowhere until I found a brilliant running coach (thank you Martin Rush). I learnt early on that ultra-running is really ultra-eating. Your body can carry about 2 hours of fuel, so if you are out running for 8 hours then learning to fuel effectively is essential. Robbie Britton gave me the outline of how to eat and more importantly how to recover. Lots of trial and error led me to start this challenge with a very clear plan involving a fueling alarm on my watch that pinged every 10 minutes of the 151 hours I spent out on the path. I could have made this challenge impossible. Instead, I made things quite a bit easier.
My moment of greatest emotion on finishing was washing my race vest a couple of days after I returned home. This was literally a life jacket for 31 days. Carrying everything I needed from water to music to energy bars to medical supplies to extra clothing to my phone and of course the endless jam sandwiches. I watched a lot of YouTube videos (thank you Loyd Purvis) to find the right one (Salomon active skin 12 for anyone interested!) and it was absolutely invaluable. It made the whole challenge easier.
2) Don't get ahead of yourself
The first time I thought about finishing was during the final 2 km on Studland beach. Maybe I needed to be distracted as that stretch happens to be a very active nudist beach. That was 1013 km into the run. Up to that point, I honestly thought I might sprain an ankle, twist a knee, or have some other mishap at any point. Talk about being in the present, the path forced me to literally look one step ahead. This is another ultra-running mantra, just keep putting one foot in front of the other. There are times in life when this is a good strategy. If your plan is clear, there are still going to be obstacles that need moving through or past. Contemplating the entirety of what I was attempting would have stopped me in my tracks. When it was tough, I thought about the next step, the next 10 minute alarm and nothing beyond that.
3) You can't do this on your own
I slowly found a great team. I have already mentioned Martin and Robbie, then there is Vanessa who sent me a message at 7 every morning with where I was staying that night, Arron Collins who I spent 40 minutes a day stretching with via our pre-recorded videos, and Sam Maddock, the brilliant osteopath who put me back together in January when I couldn't run for 3 weeks. Remove any one of them and I could not have done it.
The days when I had to run alone were infinitely harder than when I had a friend alongside. Initially I wanted to be on my own, but quickly became very grateful when people joined. Time moved so much more quickly when chatting. Looking out for others helped take the focus away from how I was feeling, and people such as my cousin Henry made critical interventions at low points that put me back on my feet. Who is on your team?
So how did I feel afterwards? I wrote last time from the path about how entangled our lives become, and the clarity around the necessity of looking after our physical and mental health. Those remain in the front of my mind and I am struggling to do both. I do feel a deep sense of peace and a lessening of that edgy drive, but life comes crowding back in and work announces itself like expandable foam. Two pieces of advice have struck a chord. The first is from the book Atomic Habits by James Clear. He points out the drawback of creating habits around a specific challenge, for example running a marathon. On completion of the challenge those habits can easily disappear. Instead create habits around a value or something that is important to you. For me, I want to be able to play tennis and lift my grandchildren up when I am 80. Being fit and flexible in mind and body is how I do that, and is a key value for me. I need to connect my habits post run to this value. Adding in challenges can help, but there needs to be a bigger, longer-term aspiration.
The second came from a client who was lamenting the loss of that post-holiday or post-retreat clarity and calm. He suggested a weekly ritual to reconnect to that feeling. I have started using this amazing map of the run (below) that the aforementioned cousin kindly gave me. Each week I pick a day of the run and look up some photos and remember where I stayed. So far it is helping sustain the feeling of inner peace. How can you reconnect with that inner calm?
Thank you all again for your incredible support and donations. We passed our target and in the end with all of the gift aid and matching raised £70,000 for three great charities who are extremely grateful.
I would not have finished this without your love and support.
Take care of your mind and body.